Food for thought
Fajita "Hasselback" Chicken Recipe
Easy fajita recipe without the tortilla wraps.
Jump to the recipe here.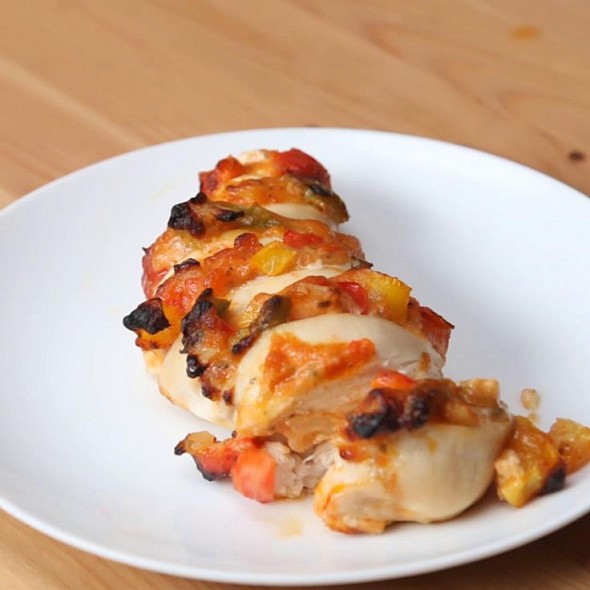 Credits: Tasty
---
Ideas for leftover chicken or turkey
Recipes to use your leftover chicken or turkey: 52 Ways to Use Leftover Chicken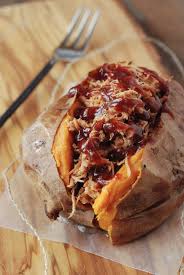 Picture - bbq chicken stuffed sweet potatoes
---
Halloween Jalapeno Popper Mummies
The best part of this recipe for Halloween is that the kids can get involved, but when you've all chowed down to your heart's content, they haven't eaten a sugary snack that will hype them up.
Ingredients:
10

Jalapeño Peppers

8 oz

Softened Cream Cheese

8 oz

Pepper Jack Cheese (Mild Cheddar for a less spicy version)

1/2 teaspoon

minced garlic
Pinch Salt
Pinch Pepper

1

Scallion (optional)
Candy Eyeballs
Pillsbury Crescent Rolls
Chop a scallion into tiny pieces.
Mix in your cream cheese, scallion pieces, garlic, pepper, and salt to your shredded cheese.
Fill your jalapeño peppers with your cheese mixture.
Now unroll your crescent rolls into rectangles (leave two triangles together and pinch the middle together).
Use a pizza cutter to cut each crescent rectangle lengthwise into four even pieces.
Wrap one or two pieces around each pepper, leaving a small opening for the eyes.
Bake for 10-12 minutes.
Right when you take your mummies out of the oven, add two candy eyes in each top opening
Let them cool, then enjoy!

Need more tasty recipes for your Halloween party? Try these other favorites here: Easy Halloween Party Recipes
---
Zucchini Lasagna Spirals
Prep time: 30-40 mins. Cook time: 45-60 mins.
Jump to the recipe here: Easy Veggie Zucchini Lasagna Spirals Dish
Despite being such a hearty dish this zucchini lasagna is also pretty light being that it uses zucchini as the pasta substitute and it's filled with veggies.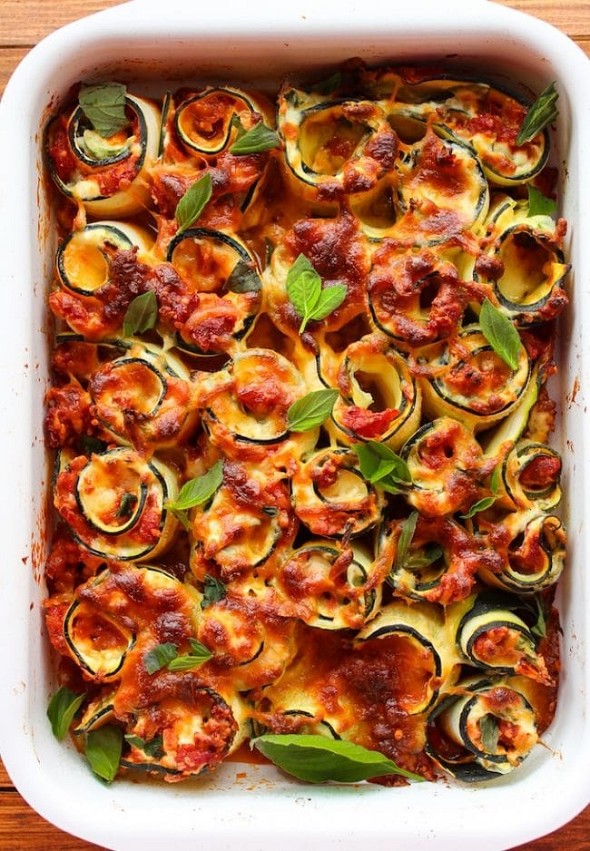 Credits: Saucy Kitchen
---
Jalapeno Popper Pork Burger with Potatoes
Prep time: 10-15 mins. Cook time: 20-30 mins.
Jump to the recipe here: Jalapeno Popper Pork Burgers
The classic appetizer just got upgraded to the burger section of the menu! Cream cheese, cheddar cheese, and jalapeños sit atop a juicy pork burger, and sweet potato rounds are the obvious side to complete this lip-smacking explosion of flavour!
Don't have ground pork? No problem, substitute with ground chicken, turkey or beef instead.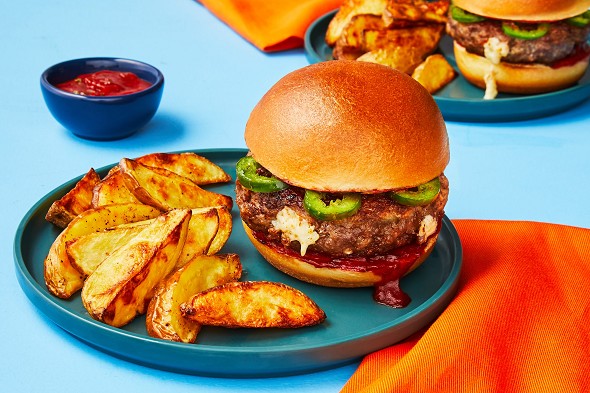 Credits: Hello Fresh Cookbook
---
Easy Taco Pasta Casserole
Prep time: 20 mins. Cook time: 20-30 mins.
Jump to the recipe here: Easy Taco Pasta Casserole

Credits: The Laughing Spatula
---
Pork Chop & Veggie Sheet Pan Dinner
Prep time: 10-12 mins. Cook time: 20-30 mins.
Baby Carrots, Green Beans, Potatoes, and Pork Chops combined to make this simple and delicious wholesome meal!
Jump to the recipe here: Easy Pork Chop Sheet Pan Dinner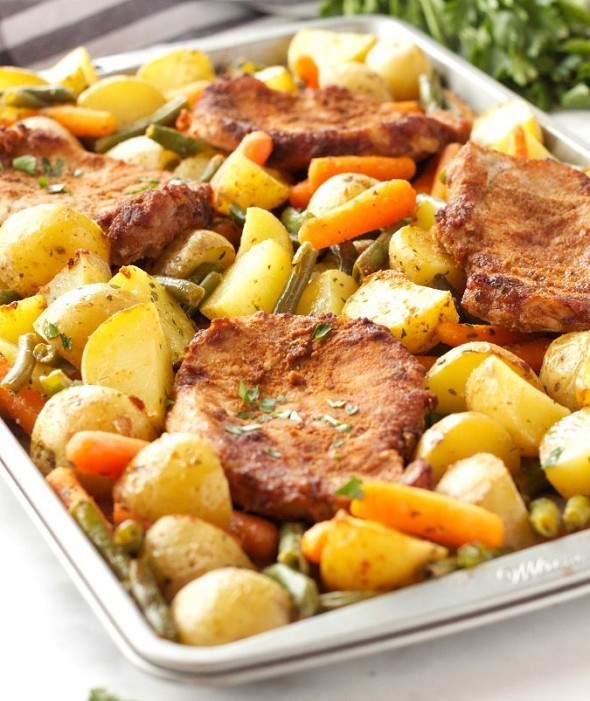 Credits: Welcome to The Busy Baker